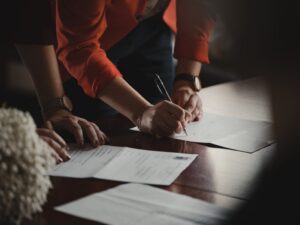 We practice in a community where many residents have relocated from other states, so we are frequently asked whether documents created in one state continue to be effective when the principal moves to another state. While we cannot speak to other states' laws, the State of North Carolina will recognize estate planning documents from another state as valid if they were valid in the state where they were created and executed. If they were valid before you moved to North Carolina, they will not automatically lose validity because you moved.
However, if you have moved to North Carolina from another state, there are other things to consider besides the ultimate validity of your documents. Here are some examples:
Is your will self-proving?
States differ in their requirements concerning the admissibility of a will to the probate court. Some require two witnesses, some three witnesses, and some, like North Carolina, require two witnesses and a notary – all of whom need to see you sign at the same time and testify to that fact in writing. This is called a "self-proving" will. If your out-of-state will does not comply with North Carolina's self-proving requirements, your executor will have to go through what could be a time-consuming, and possibly unsuccessful, process to get your will admitted to probate even though the substantive provisions of your will are valid.
Do you still need a trust?
If your current estate plan includes a trust, another thing to consider is whether you still need that trust after you have moved to North Carolina. Some trusts are created in response to state-specific estate tax and probate laws that may not be a concern in North Carolina.
Is your estate plan outdated?
Especially if you have a trust or a complex plan, changes in the law since their execution may prevent your out-of-date, but still valid, estate planning documents from accomplishing your goals. We recommend you review your estate plan every three to five years and see our post with tips for when and why to review and update your estate plan. As goals, circumstances, and laws change over time, so should your estate planning documents.
If you have concerns about the validity or efficacy of your estate planning documents, Attorney Rhodes can review and discuss them with you. Contact us through our website or by phone at 919-435-3646 to set up an appointment.
The information you obtain at this site is not, nor is it intended to be, legal advice. You should consult an attorney for advice regarding your individual situation. We invite you to contact us and welcome your calls, letters and electronic mail. Contacting us does not create an attorney-client relationship. Please do not send any confidential information to us until such time as an attorney-client relationship has been established.