Creating Peace of Mind with Thoughtful Estate Planning
Rhodes Law Firm, PLLC, can help you protect yourself and your assets with estate planning documents—including wills, trusts, general powers of attorney (GPOA), and health care powers of attorney (HCPOA) — specifically tailored to you, your family, and loved ones.
People generally have ideas about what they would like to do with their estate plan, but it's important to get assistance from an expert who can turn those ideas into reality. A key element to planning your will and other estate planning documents is to work with an attorney who will listen without judgment, help you clarify what you want to accomplish, explore your options and create an estate plan you understand.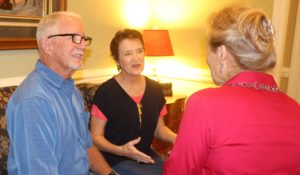 When you visit Rhodes Law Firm, PLLC about creating an estate plan, the initial focus will be on you and the people you love – not on what you own. Attorney Annette Rhodes talks with you about your desires and your concerns for both yourself and for your loved ones before talking about what you own and how those assets can best be protected and passed onto others. The type and value of your assets do not necessarily drive your decisions and will not drive our conversation. You can review the initial questions you will be asked and a list of factors to consider here.
Annette advises you, then creates and helps you implement your estate plan with beneficiary designations or, if applicable, transferring assets to your living trust. For instance, the SECURE Act (effective Jan. 1, 2020) drastically affects inherited Individual Retirement Accounts (IRAs) or other qualified retirement accounts, but you can significantly reduce your heirs' tax burden with respect to inherited retirement accounts if you plan thoughtfully and implement the plan correctly.
A will directs what happens to your personal belongings, investments, real estate, and other assets should you die and can also make provision for your children's care. A will can be the vehicle for the establishment of a trust. It should make your wishes clear to your survivors. The executor of your will gathers your assets, determines what you owe at your death, makes sure those debts are paid, and then distributes what is remaining to your heirs in accordance with your will.
If someone dies without a will, state law controls who receives their assets via "intestate succession" laws. If you should die without a will, state law will see that your family receives your assets, but you may be surprised who would be included and how your assets would be divided. Annette can explain how the intestate succession laws would apply to you and help you determine if you need a will.
A GPOA document should be in place in case anything happens to you. Someone needs to manage your assets without going through a guardian process. A GPOA can be used in a variety of ways that will help you meet your estate planning goals, even when you're unable to make decisions. The appointed attorney-in-fact manages your assets for you and those who are dependent upon you during your lifetime. They are to use your assets for your benefit and the benefit of your dependents.
Just as important is the HCPOA which outlines your wishes for life-sustaining or life-prolonging measures should you become very ill and also appoints a health care agent should you become unable to communicate with your health care providers. An HCPOA legal document created by Attorney Annette Rhodes enables the person you trust and appoint as your health care agent to know and follow your wishes. You can also set forth your desires or directives in a document called an advance directive.
While there are simple HCPOA statutory forms that are legally valid (such as the one you may have completed while in the hospital), they are not adequate in achieving what most people want. There are many options that should be considered.
Oftentimes people delay creating a will, GPOA, trust, or other estate planning documents because they don't know what to do. Annette understands this and makes the process much less difficult for you by discussing concerns, explaining the options, and working with you to create an estate plan that meets your needs.